"Lisa did a fine job of assisting me with the process. The entire publishing process began in February and ended with my book being published in August. It might have taken a little less time, but then again, the time involved was necessary to produce a decent final product that took 25 years to complete. So, Lisa's patience and knowledge proved to be invaluable in leading me through all the hoops to UPS delivering my author's copies. I've already had about 1,000 orders and requests continue to pour in. I'm exceedingly pleased. Thanks Outskirts for everything. I'd publish with you again."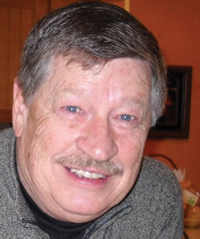 Dan Bisher is a published author, writer, journalist and public relations expert. A native of Hillsdale County, MI, he is U.S. Marine Corps Vietnam Veteran having served as a Combat Correspondent. Dan attended California State University, Fullerton and was employed by Hillsdale College in Media Relations as a writer. For many years he narrated a historical program titled Tales of the Old Sauk Trail on Hillsdale's WCSR radio station, and served as a color commentator for high school and college football and basketball. He resides on his family's Michigan Centennial Farm (1872) with his wife Noel.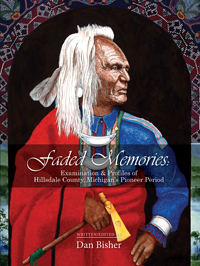 Click for details or to purchase
Book description…
Following the War of 1812, pioneer settlement of the Northwest Territories began. The U.S. government encouraged the westward movement by offering newcomers cheap land at $1.25 per acre. The government purchased vast tracts of unencumbered land through numerous negotiated treaties with several Indian tribes, or it was taken by cheating or force. Tens of thousands of inhabitants from mostly New England states, and Europe, migrated to these new lands for an opportunity to begin new lives on the frontier. One of the more popular routes traveled by pioneers began in upstate New York along the Erie Canal to Buffalo and then across Lake Erie by steamship to Detroit. A family could buy wagons, beasts of burden, tools and whatever they needed in the future motor city to clear land, build a log cabin and start farming. A steady stream of covered wagons left Detroit along the old Sauk Trail called the Chicago Pike. Faded Memories: Examination & Profiles of Hillsdale County's Pioneer Period offers readers a glimpse of the lives and events experienced by original settlers and Native Americans. Although not the complete history of Hillsdale County and the tri-state area, 36 chapters plus the introduction and selected poems illuminate the beginnings of civilization upon these hills and dales. It's important to remember your own culture and heritage, and who you are and where you came from. Faded Memories will hopefully add to your knowledge about your own family history.