"I was very impressed and satisfied with the assistance and encouragements from my Author Representative. The final outcome of my first book was beautiful to behold, from the book cover to the content and text. Thanks to Outskirts Press for a job well done."
Thomas O. Aladi, is from Urualla, Ideato North Local Government Imo State, Nigeria. He attended Three Rivers Community College Missouri USA and Norfolk State University earning a BSC degree in Electronic Technology Engineering.  "I view myself and others as traveling merchants searching for the finest pearl – scriptural truth that will set us free from years of being misled away by the wicked from the real truth of our God's revealed words. Thanks to our God for fulfilling his promise to pour out his spirit on us in the last days of our tribulations in order to make his words known to us. All can be liberated by accurate understanding of what is written down in the bible if they are willing to search for the knowledge stored in the books and seek the help of the God behind the things written. This book will assist and provide to all sincere seekers of truth how to and ways to attain the knowledge that will set them free – John 8:32. The understanding revealed in this book is of the Holy Spirit sent from our God to help us to know of the things He has done, is doing and will soon bring to completion.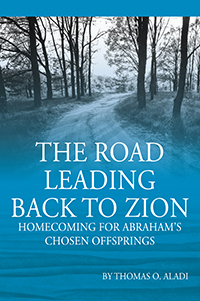 Click for details or to purchase
Book description…
The Road Leading back to Zion is a unique, harmonious and clear presentation of the bible's message to the chosen ones of Israel of God and humanity. For them to have understanding of the things hiding from long ago by our God, which is now being revealed that we may fear the God who is doing all things known from old. The understanding of the true God and his activities have never been presented crystal clear as is done in this book. From the things our God foretold long ago; to the words of the Messiah, our leader and the words of his first century disciples, we see the light of God's words as it shines as a lamp showing us where we are standing in the stream of time. As a light to our road way it shines to guide us to our destinations. Our destination solely depend on what we do with the understanding of the true God who is doing all things as He foretold from beginning. The true God decides whether you will be preserved alive or put to death. He decides who is on top today and who is at the bottom tomorrow. He decides who will inherit his territorial land/kingdom. Yes his decisions and heart counsels of long ago still stands to be carried out.