"This is the fourth novel I have published with Outskirts Press. The reason for that is simple – without question, they are the absolute best in the wilderness of independent publishers. The OP teams I have worked with are a great bunch of professionals who know their business exceedingly well and made this latest novel the absolute best it could be. None better."
Andrew Ceroni served a distinguished career as a Senior Supervisory Special Agent in the conduct of global counterespionage and antiterrorism operations. He received his BS degree from the U.S. Air Force Academy; MA from Case Western Reserve University; and studied several foreign languages at the University of Maryland, MD. He is a member of the Authors Guild and lives in Colorado with his family.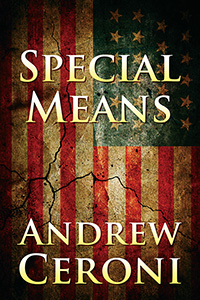 Click for details or to purchase
Book description…
CIA agents must play catch-up in order to stop powerful men in Homeland Security and the Defense Department from overthrowing the President and his administration. Escalating gang violence in Denver, Colorado, and in other large U.S. cities captures the attention of the first term President. He wants a solution, and he wants it NOW – but legislation takes years. The Director of Homeland Security suggests that the remedy to the deteriorating situation may be a highly classified program deep within the special charter of FEMA known as Annex K. This deep-black program, nicknamed STARDUST, would be executed beneath the heaviest cloak of secrecy and without the informed consent of Congress. When the CIA sends Agent Dave McClure to Denver to investigate inexplicable lethal violence being waged with advanced weaponry against organized street gangs, McClure discovers that what has been unleashed is a sinister solution far worse than the problem. He unearths a nightmarish plot to do much more than eliminate gangs in America – rather, it's an attempt to seize the military district of Washington and overthrow the federal government. McClure's own life is now at especially high risk, and the CIA must act quickly and with overwhelming force. But time is short…and the clock is ticking!