"I chose Outskirts Press as my publishing company because of the incredible reputation they hold in the industry for self publishers. Their website is user friendly. My Author Representative was always ready to rectify an issue or answer any questions. They take the stress out of the process of self publishing by streamlining the entire operation. My first-time author experience was made SO easy by working with Outskirts Press. They explained the process every step of the way, their editing and graphics team were a joy to work with, and even after my book was published, they offer marketing/selling/publicity information on how to expand your book's outreach in the market. The vision I held in my head of this book coming to life, has manifested in my hands, all due to the professionalism and experience of Outskirts Press. Thank you!"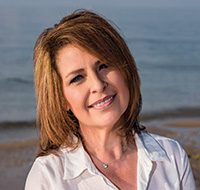 Gina Simone is a Spirit Medium certified through the Forever Family Foundation. At the age of 11, she began to notice and feel Spirit and energy around her. Not knowing what these gifts were, she always felt different and isolated. A traumatic pool accident with her toddler son catapulted her into finding the meaning behind life, Spirit, lessons, and karma. She left a comfortable corporate finance career to answer her calling to connect you with your loved ones and with your own innate intuition and higher consciousness. She has been a featured medium on Gwyneth Paltrow's GOOP.com, has been voted Long Island Best Medium several years in a row, and is also a featured medium on WBLI 106.1 morning show.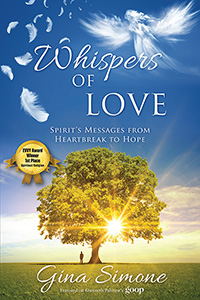 Click for details or to purchase
Book description…
Death is never final-and you are never alone … From a young age, Gina knew she was different. She could never safely share her reality with her family-the reality that she could see and communicate with Spirit. But as she matured, she realized her life's calling as a Spirit Medium was to help people connect with deceased loved ones. With warm, witty honesty, Gina shares landmark moments in her own life-from embracing the gift that was so misunderstood in her early life, to the devastating death of her 27-year-old son. Whispers of Love will introduce you to the messages, signs, and specific ways that Spirit and loved ones share their language of love.
Are you struggling with storms in your life that you can't overcome or has the weight of unbearable grief brought your life to a halt? With understanding messages from Spirit and your loved ones always around, finally hope can arise from heartbreak. Truly inspired, Whispers of Love compassionately introduces you to a deep exploration of why we are here, how to connect with Spirit, and how we can find meaning in life's hardest challenges. Gina teaches us the impressive lesson that remaining frozen in pain is not the path to freedom. We must embrace our lives with Spirit on board so that every step can unfold in Divine order, with less drama and perhaps even a new found perspective on grief.