"It is my hope that every author would have the same amazing experience that I had with the guidance I received through my Publishing Consultant. I have published three books before this experience, never having the same wonderfully efficient publishing. Thank you."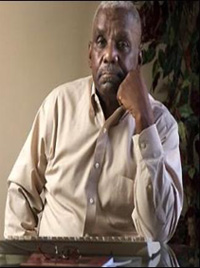 James C. Rollins is a retired D.C. Government civil servant. He is a resident of Prince Georges County, Md. the father of four kids and the grandfather of four super special kids, and great grandfather of two baby boys and a baby girl. He probably was one of the first single parent dads of the 1970s. He attended Antioch University. Rollins served in the US Air Force from 1961 (beginning construction of the Berlin Wall, The Cuban Missile Crisis, also known as the October Crisis of 1962, and the Viet Nam war) to 1965. The Author's history is significant because he was born in 1942, 15 city blocks from the nation's capital, in a house that had no indoor plumbing (it had an outhouse) nor electricity, and it was heated by a wood stove in the dining room. He was born mid-day, at home, by the mid-wife who was also his grandmother- not in the local hospital (that was 4 blocks away), because it only accepted black patients in emergency.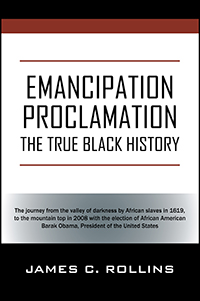 Click for details or to purchase
Book description…
EMANCIPATION PROCLAMATION THE TRUE BLACK HISTORY. The journey from the valley of darkness by African slaves in 1619, to the mountain top in 2008 with the election of African American Barak Obama, President of the United States. African Americans searching for the African roots of their culture should begin by understanding that only about five percent of between 11 and 12 million enslaved Africans were brought to North America or the United States. By 1619 the first African indentured servants arrived in the American colonies. The indentured servant was not a slave; they were under contract to provide service, over some time, after which they were set free. "What an interesting book! This book is well written while covering such a wide variety of topics that each entry is interesting and enlightening. There was an excellent job of covering a large period before the EMANCIPATION PROCLAMATION and after many in a clear and concise manner. It definitely gives the readers some food for thought, and they'll still be thinking about this book and its revelations long after they've read the last page." Author of the controversial book The Curse of Willie Lynch: How social engineering in the year 1712 continues to affect African Americans today.