"The Outskirts Publishing experience was one of painless precision and assistance throughout. From the beginning Game Plan; use of printed tips; great editorial team, creative cover designer and illustrator; production team; to Certificate of Publication; all guided and directed by my wonderful Author Representative. The online 24 hour Publishing Center fit my busy schedule to get the work completed. All in all a most satisfying work relationship for someone like me who had never published before; and who is now looking forward to marketing this book with Outskirts assistance!"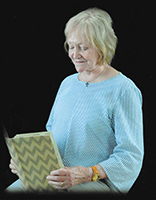 Patricia Griffith Johnson is an addictions counselor, licensed therapist, and spiritual director with more than 30 years experience working with the military and those suffering from addictions and other physical, emotional and psychological distress. The practices suggested in this booklet were developed from working with clients who were looking for something to enhance their lives by learning to love themselves through being loved and appreciated using faith and spirituality. These practices are encouraged to be used by those who are working spiritual steps as part of recovery, and anyone else who wishes to expand their spiritual awakening. Pat wishes she had had such a guide when starting her spiritual journey.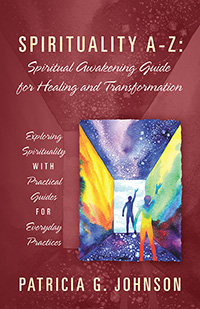 Click for details or to purchase
Book description…
A Practical Guide to Awakening Your True Self. Are you experiencing the feeling that something is missing in your life, that you are totally alone without support or assistance? Does there seem to be a gap that is not able to be filled with food, alcohol, sex, or the myriad temptations that are available? Spirituality A-Z: Spiritual Awakening Guide for Healing and Transformation provides a road map for exploring and experiencing transformation through the use of everyday spirituality, with 60 suggested practices that are simple and easy to try. Spirituality acknowledges that a relationship is possible with our God or higher power through spiritual practices that tangibly strengthen the connection to God or higher power. Spiritual practices help to build a love and appreciation of ourselves and God in all creation. They are meant to build and strengthen appreciation, compassion, and kindness in ourselves for all living things and to give us a feeling of never being alone. Spiritual practices give us a feeling of being a viable part of the universe and are a tangible way to show appreciation for all that has been given from God, as we understand God. These tried and true and sometimes ancient practices can be used for healing and transformation by anyone who wishes to explore and advance their spiritual life.