"This is my fifth book with Outskirts Press and my Author Representative was there to offer new advice and guide me in a painless way. I highly recommend Outskirts Press!"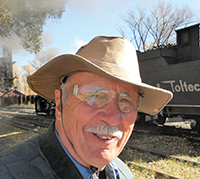 Billy Anders is a member of the Friends of the Cumbres & Toltec Scenic Railroad, Inc., and works as a docent for the C&TSRR, successor since 1970 to the Denver & Rio Grande Western Railroad. He is a retired police officer and US Air Force officer.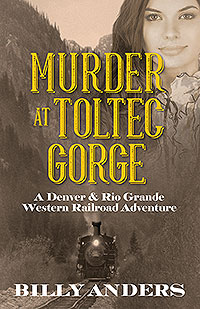 Click for details or to purchase
Book description…
"IF HE HURTS HER AGAIN, I'LL KILL HIM!" Arriana Garcia, stunningly beautiful yet imperfect, is the section foreman's wife at Sublette, New Mexico, on the Denver & Rio Grande Western Railroad's San Juan Extension. It's an isolated, lonely mountain place, 9,276 feet up, where winters are harsh. Twelve young rail workers live in two bunkhouses next to the section house, and Mrs. Garcia cooks for everyone. But in 1927, during the Roaring 20s, American women are changing. Many like Arri Garcia are rethinking traditional roles. Leo Garcia, Sublette section foreman, is Arriana's husband. Leo was decorated for bravery in France during World War I, a hero. Garcia is a strict, effective railroad supervisor, but he has a dark side. Leo is an abuser. Foreman Garcia rules his home the same way he rules his section gang – through intimidation and fear. Eliseo Martinez is a star engineer for the D&RGW. He grew up in Conejos, Colorado, where he served as an altar boy in Our Lady of Guadalupe church. Over time, Eli quietly falls in love with the married Arriana Garcia, though he knows better. More than once, Martinez sees fresh bruises on Arri. Finally, infuriated, he tells his best friend, fireman Samuel Gonzales: "If he hurts her again, I'll kill him!" Sam realizes that Eli has stepped into a Sublette funnel in which there's only room for two people to come out alive. This can't be good, thinks Sam. This can't be good at all.