"My Author Representative was very responsive whenever I had a question. Thank you!"
Joy E. Mason is a recent retiree who grew up in a family that read insatiably, traveled extensively, and contributed passionately to the community. These experiences and the influence of her family contributed significantly to her Purpose Journey and her writing. Joy graduated from Miami University with a bachelor's degree in microbiology and from Butler University with a master's degree in pharmaceutical sciences. From 1988 to 2017, she worked her way up from associate to a global quality consultant, supporting an Indianapolis-based company's international laboratories. As one of the few African-American women in a professional role supporting manufacturing, she successfully navigated corporate systems to eventually be recognized for her project leadership. The sometimes difficult navigation of a corporate environment contributed to exposing what felt like a paradox between wanting to be professionally successful and wanting spiritual fulfillment. This paradox, her faith, and her unquenchable reading contributed to her Purpose Journey. Joy successfully executed an aggressive plan to retire at the age of fifty. She is now an entrepreneur leveraging her black belt six sigma certification and her strong belief that every process can be improved, and every problem can be solved. Joy uses her extra time to travel with her family, volunteer, read, exercise, and tend her garden.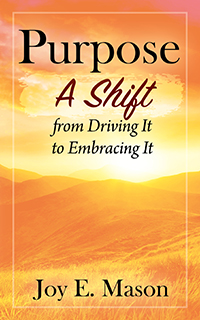 Click for details or to purchase
Book description…
Are You Truly Living with Purpose… or Just Reaching Goals? If you are driven or an overachiever; if you feel as though you are on a treadmill, reaching, straining, and driving for something; if you are still trying to understand your life's purpose, then Purpose: A Shift from Driving It to Embracing It is for you. In this book, you will discover how goals and purpose are different. Unlike most books on finding life's purpose, this book starts with what life's purpose is not, because this is precisely how the author came to understand what was real in her life and what was imagined or supposed. The author demonstrates how not to look in a distorted mirror for answers, not to be hijacked by our past, not to practice off-purpose thinking and self-grievance, and so much more. She uses personal experiences, like joining a risky lawsuit and dealing with the reality of a brain tumor, as well as lessons of the spiritual leaders who guided her on her journey, to show how her perspective on a purpose-driven life changed over time and how that change led her to the peaceful space she's in today. Warm, real, and relatable, this down-to-earth book is a practical roadmap to a more fulfilling way to be in the world.