"I would like to thank my Author Representative for doing such an amazing job helping me publish my book. I was completely new to the whole process and she walked me through each step and answered any and all questions that I had immediately. I am so grateful for her help and knowledge in helping me reach this great milestone!"
Suzanne Hession is an elementary school teacher who is passionate about reading and teaching children. Joseph Zimmer, the illustrator, is a lifelong friend and an incredibly talented artist.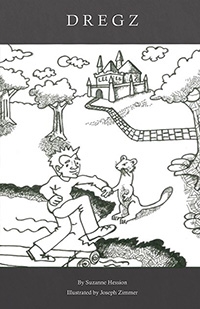 Click for details or to purchase
Book description…
An evil serpent freed from the depths, a duplicitous servant, and a cruel curse merge to threaten the royal family's very existence. King Halvar is ill and childless, so he visits the village orphanage, narrowing his search for a suitable replacement to the throne to two young brothers, Silas and Dregz. Halvar knows the new king must be strong, resilient, determined, and most of all, honest. Dregz wins the competition, and his brother Silas, in a fit of jealousy, has him banished to the Island of Dregs, warning the people that "only the dregs of the earth live there!" But Silas's actions have dire consequences. Dregz's son Dreck is determined to uncover the secret his father has kept for years, and as he sets out to save the people who once looked down upon him and his family, he finds himself in a terrifying chain of events. Will he be able to save Silas's daughter, Princess Elle? And can he defeat Nazaar-the slithery stranger who seems to hold such power over them all?