"Gwen is awesome! I do not want anyone else but her assist me with my next few novels. She was quick to respond, knowledgeable of products and production. I was recommended to Outskirts Press and it was well worth the time, money and effort of having the first book published. The next and all others will be with Outskirts. Positive Experience!"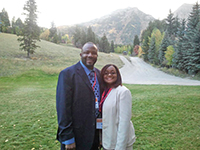 Dr. William C. Dixon, Jr., served more than twenty years in public education, including district administrative roles in both inner-city and rural school districts in North and South Carolina. He was the founder of the Carolina CAGERS, an Amateur Athletic Union (AAU) basketball team for young males in grades three through twelve. He was married to Dr. La'Toya Thomas-Dixon prior to his untimely death in 2015. He has two sons, Mitchell and Xavier Dixon. Dr. La'Toya Thomas-Dixon is an educator with more than fifteen years of experience in public education. She has served in district administrative roles in rural school districts in North and South Carolina. She currently resides in South Carolina.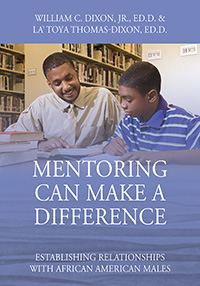 Click for details or to purchase
Book description…
Every Child Needs A Mentor, Especially Our African American Males! Mentoring young males, starting as early as kindergarten, is essential for success in school and in our ever-changing global society. Young males need support from positive, enthusiastic, and caring role models, particularly men. As schools continue to move forward with federal and state mandates, African American youth need guidance and direction that will forge them forward. Dr. William C. Dixon, Jr., shares snapshots of scenarios he has faced over the years as a school administrator. Dr. La'Toya Thomas-Dixon contributes to the book as an advocate for the African American male, understanding and connecting to the whole child by providing glimpses of research and advocacy. This book is for anyone seeking encouragement and advice on how to mentor an African American male student or athlete who seems distant or is falling behind in school.