"I reached out to Outskirts Press for my second book. To me the entire process was completely transparent with no surprises. I had full visibility of the status from the author's page assigned to me. The Outskirts Team had different people to guide me with the next steps, and each of them was very prompt, thorough and clear in the communications while addressing my queries and concerns. No time was wasted moving from one step to the next. The best experience was during the design of the cover picture and finding the suitable title of the book. They suggested several options for the title and each of these reflected the book content more aptly than what my initial expectations were. I am impressed with their quality service and professionalism. My book has just been published so I have not yet been able to leverage the marketing services completely, but the marketing coaching emails I have started receiving are truly educative. From my experience during the last few months, I have good reason to believe that Outskirts Press will continue to be an attractive and feasible option for new authors like me."
Nilayan Basu's love of photographing nature and traveling to exotic places is apparent in his writing. His first book, Ornate Wanders, is a collection of short stories based on real places and circumstances but colored by imagination. Nilayan lives in the Silicon Valley, California, with his lovely family.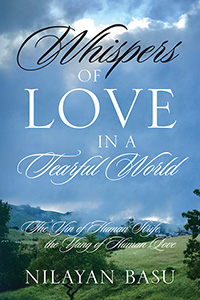 Click for details or to purchase
Book description…
Enjoy vivid descriptions of nature, and memories blended with imagination and imagery from the author's personal photo collections in this fanciful new short story collection! Some say that whenever we see or hear something, it is permanently etched in our brains. Sometimes memories return to haunt us, sometimes to amuse us, and sometimes to make us laugh. Sometimes what we see or hear appears in our dreams, obscured and blended with other memories or fantasies. Neuroscience is complex, and the wonders of the human mind are amazing. Nilayan Basu brings this concept to life in his new short story collection. In "Whispers of Love in Tearful World," the tales are imaginary but have distinct ties to real-world events. The natural tendency of the human spirit to seek peace forms the core of Nilayan's soothing, eloquent prose.