"I highly recommend Outskirts Press. The whole team was outstanding. My Author Representative was quick to respond, helpful with my technology challenges, encouraging and just plain easy to work with! This is my second book and I already have a third book in the works. Thank you team!"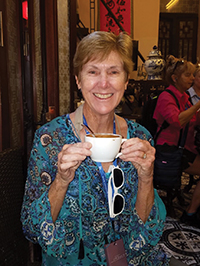 Sarah Sebring Binder, a longtime resident of Ames, Iowa, and former resident of Tucson, Arizona, has been an educator for more than 40 years. She continues to engage and play with children in Caterpillar Club and Plant Pals. When she is not writing, she loves to garden, dance, fiddle, travel, and quilt. Brad, her husband of many years, is her biggest fan.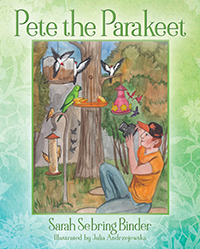 Click for details or to purchase
Book description…
Join in the fun and the grand adventure of a truly remarkable pet bird, Pete the Parakeet! When Mr. Sebring travels south for the winter, just like the snowbirds, he leaves his daughter and granddaughter in charge of Pipsqueak and Pumpkin. But Pipsqueak, the parakeet, escapes. And when Judith Ann and Alma see a few green feathers on the floor, they worry that Pumpkin, the cat, may have eaten the bird. Elsewhere in Mr. Sebring's hometown, Sally and Brad spy a lime-green parakeet in their backyard. The parakeet stays for several days, along with the hummingbirds, orioles, finches, and other local birds. Sally and Brad love having the parakeet they fondly call Pete, but when the cold begins to set in and the other birds leave, so does Pete. Sally and Brad reach out to try to find Pete and his owner using posters and social media, and their excitement grows with each new sighting. Mr. Sebring, Judith Ann, and Alma join the hunt as Pete makes his way across the country through all sorts of weather. But will they ever be reunited with the adventurous little bird?