"This was my fourth publishing effort. Dana was patient, encouraging and extremely helpful throughout the time we worked together. Thank you, Dana."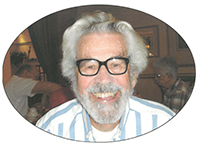 Douglas Richie grew up in lower New York state. He completed his education in Philadelphia, where he met his wife, Annie, whose story can be read in My Annie, an autobiography available on Amazon. With their four children, they moved to California in 1961. Richie worked in the field of institutional food service management, then took early retirement and moved to Palm Springs, where he and Annie managed a small hotel for the next thirteen years. Now fully retired, Richie indulges his passion for writing. He is also the author of Entrepreneurial Annie and I: How My Wife and I Put a Little Spare Time, a Lot of Hard Work and One Motel Into Making a Million Dollars.
Click for details or to purchase
Book description…
What's the secret to happiness? Travel! Annie and Doug Richie believe the recipe for a long, happy life together requires a willingness to take risks, a sense of humor, and a sense of anticipation that comes from discovering new places and meeting new people. After they took their first cruise to Mallorca, Spain, after fifteen years of marriage, they knew they were hooked! Now in their late eighties, the Richies have enjoyed several land tours and over one hundred cruises, and their courage and willingness to explore new territories is one of the many reasons they are still together. The Restless Richies explains how travel added excitement and romance to one couple's sixty-nine years of marriage. And their new book encourages others to experience the joy that travel can bring!