"It was a great experience working with Outskirts Press to publish Catholic Manifesto, Catholic Revolution and Catholic Peace, which are important books that prepare all people for God The Father's True New Time on Earth before the soon arrival of His Son Jesus. We thank God for the efficiency of Outskirts Press to accomplish this important work."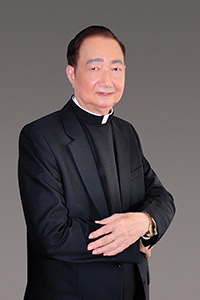 Rev. Khoat Van Tran in front of the Hanoi American International Hospital at 9 Chua Ha Street, Cau Giay District, Hanoi City, Vietnam. This project belongs to the Keystone Foundation, established by Rev. Khoat Van Tran. In his life, Priest Khoat follows Christ's procedure: caring for the people before preaching to the people. This hospital is on the way to completion. It still needs the funding for medical equipment and medical personnel at this time. Thanks for keeping this ongoing project in your prayers.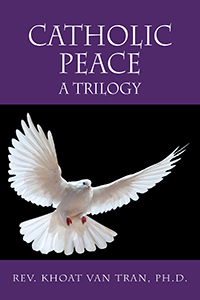 Click for details or to purchase
Book description…
Rev. Khoat Van Tran's Tird Trilogy for the "True New Time."  Catholic Peace explores the various types of peace we can experience in the True New Time: Human Peace, Divine Peace, and the various aspects of political, social, relational, natural, spiritual, religious, internal, personal, and eternal peace. Rev. Tran's first trilogy, Catholic Manifesto, lays the spiritual foundation for God's Kingdom on Earth. Justice on Earth is discussed in Rev. Tran's second trilogy, Catholic Revolution, which paves the way for Catholic Peace here, the third trilogy.  Medley of Peace. There can be no peace without justice. There can be no justice without revolution. There can be no revolution without sacrifices. There can be no sacrifices without purpose. There can be no purpose without ideals. There can be no ideals without healing. There can be no healing without faith. There can be no faith without cognition. There can be no cognition without vision. There can be no vision without silence. There can be no silence without meditation. There can be no meditation without God's Love. Three Trilogies:  Catholic Manifesto, Catholic Revolution, and Catholic Peace are united in their purpose to present the wonderful spirituality of the True New Time. These three processes give three perfect rhythms starting from justice in the political realm and ending in the religion of Christ's love to be a model of Earth's journey back home to our Maker. A burning desire to reach every destiny in this journey and all parts of humanity move the most hard hearted antagonists of God to join the pilgrimage into the True New Time of God Our Heavenly Father on Earth. What Event will happen next?