"Wonderful advice and support from Lisa and everyone at Outskirts Press."
Francis V. Adams is a lung specialist and Associate Professor of Clinical Medicine at NYU Langone Medical Center. He is also a Police Surgeon with the NYPD and hosts Doctor Radio on SiriusXM 110 weekly. He lives in New York City with his wife, Laura.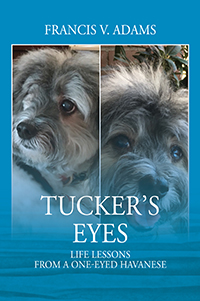 Click for details or to purchase
Book description…
Above all this dog agrees to give love and affection. Depression after the loss of your lifelong companion, blindness, cancer surgery, advancing age and its effects on your entire body – These are common occurrences in our lives and are often the source of stress and anxiety. As a physician, I see daily the consequences of these events on my patients. Quite often the results are devastating, contributing to further illness and reducing not only the quality of life but also how long we live. But what if the being faced with these events wasn't human? What if the species was canine? Would the results be different? Can we learn from another species' experience? At age 13 my canine son, Tucker, would be faced with these events. His response to these life challenges is detailed in this book wherein the reader will hopefully find the answers to these questions. Science has already told us that pets make us healthier and that pet owners live longer than those who do not share their lives with another species. Just holding an animal raises the level in both species of the pleasure hormone, oxytocin, and lowers the stress hormones secreted by the adrenal glands. Animals, and especially dogs, are said to live in the moment, something human beings, laden with anxiety and stress, are often not able to achieve. Tucker's Eyes relates one dog's experience with adversity and is not meant as a scientific work on animal behavior. Tucker's experience and recovery, however, bears similarity to many other animals who have also made startling recoveries. His life story is meant as an example from which the reader may want to draw useful lessons. In this way, Tucker continues his life mission to provide comfort and love to all.