"Overall, the experience was great!"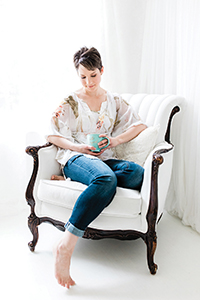 Kylene Terhune is a Functional Diagnostic Nutrition Practitioner, as well as a wife, mom, dog-mom and foodie. A former opera singer turned health nerd, she's now a functional health coach for women who struggle with chronic and complex digestive symptoms. She uses functional lab testing, lifestyle changes, nutrition and supplementation to help her clients identify healing opportunities and support their bodies to better health. Kylene's mission is to empower women to go from homemakers to healthmakers through education, action and simple lifestyle changes. After being diagnosed with Hodgkin's, Kylene used an integrative treatment approach and was in remission five months later. Now she's an advocate for integrative cancer care within the Hodgkin's community in order to help women support their bodies, avoid side effects and recover quickly.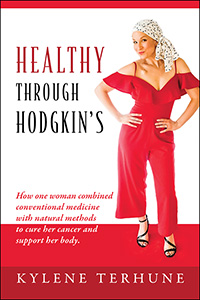 Click for details or to purchase
Book description…
BE. EMPOWERED. Kylene's cancer diagnosis was a huge shock—and a unique opportunity. She was already involved in health, nutrition, functional lab testing and lifestyle medicine, so she knew that a comprehensive approach was necessary to give her body the support it needed during cancer treatment. For Hodgkin's patients, the efficacy rate of conventional chemotherapy is 95% or above. But Kylene knew it wouldn't be enough, so she also used nutrition, supplemental support, integrative oncology, spiritual awareness and emotional healing to achieve the best results and limit side effects. In Healthy Through Hodgkin's, Kylene shares the benefits of this approach, empowering Hodgkin's patients to make informed choices that will support their bodies regardless of financial circumstances. This book will encourage, support and guide you to take charge of your health during treatment and long after you reach remission.