"This is the second time I have worked with my author representative and it just gets better. I hope to have another novel ready by the end of the year and hopefully I will be able to work with her again. It's an excellent , clear and unambiguous process, worth every cent.."
Michael Barrington from Manchester, England, currently lives near San Francisco, California with his wife, Annie who is a painter. For ten years he worked as a missionary in Africa. The Bishop Wears no Drawers (2015) is a memoir of that time. His two previous novels, Let the Peacock Sing and Becoming Anya received excellent reviews in the USA and UK. His fiction and non-fiction articles have appeared in several literary magazines, and he is a regular contributor to Alive East Bay. He is also a feature writer for the Mt. Diablo Gazette. He can be found on his website, www.mbwriter.net where he has a news column and also blogs.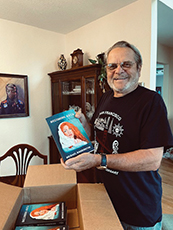 Book description…
It's a race against time to discover the truth as the CIA, M16, and NISS (the National Intelligence & Security Services of Ethiopia) are forced to act with only minimal information. Will they uncover a plot to abduct the US Ambassador to Ethiopia? Two super agents, Lisa from the USA and 'the Prof' from the UK, are charged with solving the issue, their personalities often clashing in spite of their mutual attraction. Their search for a stolen but critical audio file takes them to New York, London, Ethiopia, Kenya, Egypt, and El Salvador. Signs of an abduction show the possible fingerprints of Al Quaeda together with that of Al Shabaab from Somalia. Suspension and tension mount as the agents fall in love, struggle to make sense out of a garbled, ambiguous but threatening conversation. It leads them on a wild goose chase, causes them to believe half-truths, make wrong assumptions, and take several miss-steps. Could Orthodox priests be involved? The reader is led down paths with unexpected twists and turns. Finally, in a hair-raising, dramatic climax, the issue is resolved. The question is, will the couple live to tell the tale?