"I couldn't have asked for a smoother process in publishing my first book. Thanks!"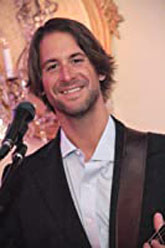 Born and raised in the suburbs of New Jersey, Chris has always followed his heart in performing, writing and recording music on his own and with his band enjoy! He has an unmatched zest for life and infinitely curious about the universe. He is a Certified Financial Planner registrant, certified to teach Vinyasa yoga, multi-instrumentalist and recording artist. Chris' passions include traveling, paddleboarding, golf, skiing, biking, New York Yankees baseball, the beach and spending time with family and friends as well as making new ones. He is eternally devoted to the discipline and philosophy of yoga. Chris believes in every person's unlimited potential and views humanity as an evolutionary and creative process in which we are all active participants and equally connected to something much bigger.
Click for details or to purchase
Book description…
Life doesn't come with an instruction manual. We are all born with different circumstances and opportunities and learn from our mistakes and experiences. The knowledge and wisdom gained are invaluable and make us stronger in mind, body and Spirit. Chris details navigating obstacles of alcohol and drug abuse, severe depression, heart break and loss from a long term relationship, being near bankruptcy and just about wanting to "throw in the towel" altogether. The only way out is through. This book gives his personal account of spontaneous Kundalini awakening, which is the physiological mechanism of union of mind, body and Spirit. Through a disciplined approach to wellness, yoga and self-inquiry on such topics relating to Spirit, yoga, culture, society, history, philosophy, psychology, relationships, religion, freedom, genetics, evolution, mathematics, numerology, science, energy, astrology, love, paradise, eternity, consciousness and the universe; Chris established the connection with the subtle body through his energy centers (chakras). His story is there to assist any reader in making the same connection and progressing on the path of spiritual growth and development.