"This is the fifth book that I have had published with Outskirts Press – 3 novels and 2 illustrated children's books. I have been thoroughly satisfied with Outskirts Press and plan to continue with them for my remaining books in progress."
Cynthia L. Clark was born and raised in the shadow of the Rocky Mountains in Boulder County, Colorado where she continues to live on Wilbur's farm. She is the author of three novels and a charming children's book, "Max Goes to Town". She is a graduate of the University of Colorado Boulder with a JD Law degree and a BA in Economics.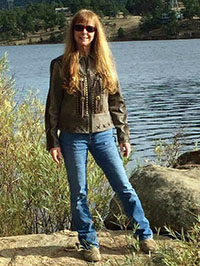 Book description…
"One day Magnolia and Lily ran outside and filled their watering cans to the top and gave the thirsty veggies a little drink when they saw a leaf flop, then go kerplop."
An amusing garden visitor astonishes little gardeners with its puzzling antics. Inspired by true events.