"A new journey without a road map always begins with a first step in the general direction of your destination. Writing, publishing and marketing a book is a similar venture. Outskirts Press and our Author Representative provided targeted information via many Outskirts Press articles and e-mails to guide my co-author and I through the publication process. We actively participated in the presentation design of our text, images and book cover. Our book was published three months ago and is presently available on Amazon, Barnes & Noble and Apple Books. We couldn't have arrived at our destination without the professional help of our Outskirts Press team. It was both an educational and pleasurable experience. Thanks!"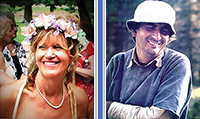 Diane Wheeler was born in Pensacola, Florida in 1947 while her father was in flight training pursuing the "wings of gold." Florida was the first of many U.S. Navy ports that became her home and she attended many different elementary and junior high schools up and down the east coast. Her life changed forever when her family finally landed in Key West, Florida in 1961. No matter how many thousands of miles away she is, Diane has called Key West her home since the first glimpse of the little island. Inspired to change the world one child at a time, she graduated from Illinois State University (Normal, IL) in 1975 with a BS in Elementary Education. In 2004 she received an MA in Multicultural Education from Florida Atlantic University. She has taught school over 30 years from Imperial County, California to Key West, Florida with multiple stops in between. Diane enjoys watercolors, long hikes and camping trips, practices yoga and enjoys spending time with family. Since her very timid beginning, she has seldom met a person that remains a stranger.
Mike was born in Altoona, Pennsylvania in 1942 while his father, a Navy MD, served with the Marines in the Pacific during WWII. After the war, Mike's dad was assigned to Navy Hospitals across the US creating a gypsy lifestyle for the family. Mike entered Key West High School in 1957 and graduated in 1961. After his father retired from the Navy, Mike's family relocated to State College, PA. Missing his paradise home, he returned to Key West in 1962 to start a new life on his own terms. Mike joined the Marine Corps in 1964, attended Electronics School in San Diego, CA. and graduated in 1965 as a Microwave Radio Technician. He then served with the 11th Marines in Viet Nam and was honorably discharged in 1968. Graduating with a BS in Medical Microbiology in 1974, he trained as a Clinical Laboratory Scientist in 1975. Working with several technology companies, he combined his dual knowledge of electronics and medical technology in the medical instrumentation field. Mike enjoys playing guitar and photographic art with his wife Kathie.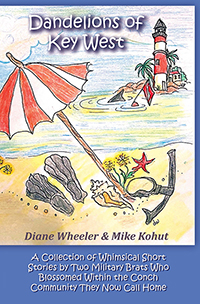 Click here for more information
Book description…
Many children of military families, like Dandelions, are scattered far and wide and learn to survive where the winds of fate carry them. The authors, both "Dandelions', have penned a whimsical collection of unique coming-of-age stories set in the late 1950's and 60's in Key West, the island paradise where they landed and thrived. Soak up some tropical magic through the adventures and misadventures of these two "Navy Brats". This light-hearted book is spiced up by the flavor of a few Conch Recipes and a dash of Island Music.