"My Author Representative was amazing. This was my first time publishing a book and I had a little bit of anxiety before we started the process due to my lack of experience. My Author Representative walked me through each step and proved to be a tremendous resource and help. Fast forward a few months and my book is published. I'm beyond excited. Thank you so much for your help!"
Răzvan "Raz" Petrea is an optimist who enjoys comedy, travelling, fishing, working out, watching and playing sports, learning new things, reading, listening to music and last but not least films. He is passionate about motivating people to achieve their potential and manifest their destiny. He was born in Romania in 1981 and moved to United States in 2005. He has a background in sports, and he fell in love with working out and the fitness lifestyle. Eventually, he was able to turn his passion for fitness into a career and in 2008 became a certified personal trainer. In 2012, he opened his first business, an in-home personal training business. In 2019 he started working as a life coach (pro bono) as a way to give back to his community. The same year, he launched his YouTube channel (Raz Petrea/Champion Mindset), started working as a motivational speaker and wrote this book with the intention to motivate and inspire people. He hopes this book can be helpful in aiding others to create and live happy and meaningful lives. His motivation and drive came from the desire to reach his full potential, give back to the community and leave this place better than he found it. He believes in living his life in a "Crescendo" and he always wakes up in the morning ready to "attack the day".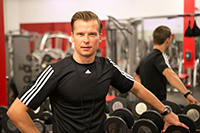 Book description…
The hard part is not getting your body in shape, the hard part is getting your mind in shape and once you have the proper mindset, what I call the "Champion Mindset", you can achieve anything you set your mind to!
R*ă*zvan "Raz" Petrea is an optimist who enjoys comedy, travelling, fishing, working out, watching and playing sports, learning new things, reading, listening to music and last but not least films.
He is passionate about motivating people to achieve their potential and manifest their destiny.
He was born in Romania in 1981 and moved to United States in 2005.
He has a background in sports, and he fell in love with working out and the fitness lifestyle.
Eventually, he was able to turn his passion for fitness into a career and in 2008 became a certified personal trainer. In 2012, he opened his first business, an in-home personal training business.
In 2019 he started working as a life coach (pro bono) as a way to give back to his community.
The same year, he launched his YouTube channel (Raz Petrea/Champion Mindset), started working as a motivational speaker and wrote this book with the intention to motivate and inspire people.
He hopes this book can be helpful in aiding others to create and live happy and meaningful lives.
His motivation and drive came from the desire to reach his full potential, give back to the community, and leave this place better than he found it.
He believes in living his life in a "Crescendo" and he always wakes up in the morning ready to "attack the day."