"This was my second book to be published by Outskirts Press. Both experiences have been excellent, very professional and helpful."
Mike Tolbert is an accomplished story teller and successful corporate and political strategist. He fell in love with horses in 1980 which eventually led him to Diamond D Ranch in Jacksonville. There he met and became friends with ranch owners Sonny Boy and Jewel Griffin. Until he started writing this book, he had little idea of the incredible back stories of their lives. Mike and his wife Annette live on a horse farm in Brooksville, Florida.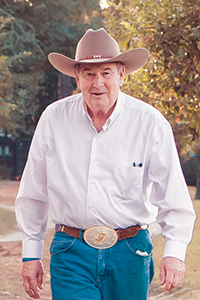 Book description…
Tough Living, Hard Drinking and Horses; Lifetimes of Creating Ranch Legends
Sonny Boy Griffin was a bull of a man, both in size and personality. His wife Jewel is tiny and tough. Starting as teens, the Griffins scrimped, fought, and hustled to create Diamond D Ranch. They survived bar room brawls, chasing revenuers, and physical calamity to build a strong family raised on horses. These are the tales of how they did it, and what happened to make them legendary.