"I was so excited to receive my copies of The Death of Ralph Stone. I took one copy over to my daughter in law and was pleased that she was not only eager to read it, but she also commented on the physical feel of the book. I want to thank my Author Representative, for helping me to pick the elements that go into that aspect. She was incredibly patient, guiding me through my first edit process. Her constant reminder that I am responsible for the quality of the finished text caused me to be extremely thorough. I want to add that I appreciate that she and Outskirts Press offer a lot of help but leave the final decision to the author on important issues. I was offered a more colorful and dramatic cover and it was an excellent job, but I picked a picture that I had found that was of the actual airplanes at the airfield that they flew from. I am very satisfied and looking forward to working with the rest of the team on the sales of my book."
T. R. Kahn is a former Army aviator who served in the First Air Cavalry Division in Vietnam, during which he came to question the validity of fighting a war with no definition of victory and no exit strategy. He is a lifelong runner, a high school cross-country and track-and-field coach, a water polo and swimming coach, an active sailor who still teaches a sailing class to high school students, and the former publisher and editor of the Central Valley Christian Times. He and his wife, Marcia, have been married 61 years and have four children, 12 grandchildren, and five great-grandchildren.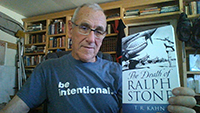 Book description…
Meet Major Ralph Stone, an ace pilot for The Flying Tigers in the China Burma India Theater, and a man who knew that it is always possible to serve our values and beliefs constructively, even in the face of strong opposition.
After the armistice, Ralph continued to serve until 1947, flying for various units. He learned more about the island campaigns as the Allies fought their way, island by island, across the Pacific, toward Japan. He also learned of the firebombing of almost 70 Japanese cities before the bombs on Hiroshima and Nagasaki, and he began to question those tactics.
Ralph came to believe that there had been a significant and crucial erosion of respect for human life during the war. When he returned to the States afterward, he was asked to become part of a team of soldiers and sailors who had been recognized for their military prowess, appearing at events celebrating victory and the return to peace. He refused. Major Stone paid a heavy price for his refusal, but this is not a story of failure. The Death of Ralph Stone is the story of a man who was able to fight his part of the war heroically and still come to question the way it was won.