"I am thrilled to have published my first book! Outskirts Press provided editors and coaches to help me all along the way! It was a great experience!"
Rev. Deb Hanson is a retired United Methodist pastor who loves children and wants them to love themselves and know that God loves them too. Her passion is to offer them encouragement and assurance that they are special in their own unique ways. Rev. Deb is married and lives on the coast of Maine with her husband and a cat named Yvette. She is the stepmother of four children and seven step-grandchildren. Alexa Langs inspired the writing of the story about Pearlina and illustrated this book at ten years old.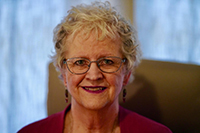 Book description…
Pearlina Penguin doesn't think much of herself. She hates how she looks and walks, and she is always comparing herself to others who seem to have all the qualities she doesn't have. When some of her classmates tease and bully her, she figures God made a mistake in making her the way she is. But at her lowest point, when she is miserable and discouraged, something surprising happens that will help her to discover that she is indeed Pearlina "Precious" Penguin…and that God made her special just as she is!