"I was worried at many points of the publishing process but my Author Representative was extremely helpful and professional and was able to walk me right through it. I was very impressed and would LOVE to publish another book with Outskirts in the near future now that the pandemic is over. Thank you very much!"
Henry has been a nature photographer for fifty years. His landscape photographs have won many awards. He has been fishing consistently for sixty years, from Labrador to Patagonia. Fly Rod and Reel magazine calls Henry a "haiku master" His work has appeared in Popular Photography, Petersen's Photographic, and National Geographic Traveler.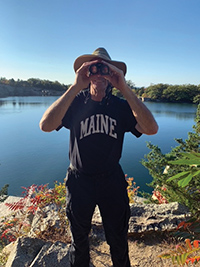 Book description…
Pretty flies catch fishermen. Ugly, buggy flies catch fish. Tying flies utilizing fluorescent colored materials with natural feathers and fur that reflect ultraviolet light will help you catch more fish. Ultraviolet light from the sun creates colors in water that are never seen by humans. Numerous species of fish and birds use these colors to identify sources of food such as minnows and insects. I call this fly-tying philosophy "The Merging of Art and Science." This book gives you the how and why. You will also learn where to find the best trout fly-fishing on the planet, and my best spot for stripers on the fly on the north shore of Massachusetts.