"This is the third book I have had published with Outskirts Press. As in the first two cases, I have found my Author Representative to be most helpful and competent as are all of the others involved in the process. "
Charlie Sacchetti was born in 1947 and raised in a tightly knit, working-class neighborhood in southwest Philadelphia. There, he learned right from wrong; a strong work ethic; and the importance of standing by your word, your family, and your friends. Upon graduation from John Bartram High in 1965, he earned a baseball scholarship to Temple University, graduating in 1969. After a brief stint in professional baseball, Charlie returned to the university and was employed there for thirteen years. In 1983, he began his current career in industrial chemical sales. In May of 2016, he submitted his first commentary piece entitled "Getting in the Game," which was published in The Philadelphia Inquirer on Mother's Day. One month later, his second piece, "Getting the Message," was submitted and published on Father's Day in the Courier-Post. That was it… He was bitten and infected by the "writing bug," and his above-mentioned books have followed. He is a regular contributor to the Italian-American Herald and Philadelphia RowHome magazine. His work has appeared in many other publications. As of this printing, Charlie and his wife, LuAnn, reside in New Jersey and have been married 46 years. He continues to enjoy the blessings of a wonderful family and loyal friends.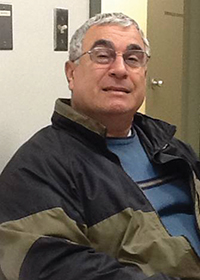 Book description…
In this, his third book—Savoring the Moments: True Stories of Happiness, Sadness, and Everything in Between—author Charlie Sacchetti continues to display his storytelling prowess, using his humorous, sincere style to share episodes from his life and the lives of those he has touched. The same easy, conversational tone that his readers have come to appreciate is again evident in this compilation of 28 stories. This time, his approach is more attuned to the reader who agrees that the events of our complicated lives should be appreciated for what they are: true gifts which are often fleeting but should not be soon forgotten. Hopefully, if we think back, we'll realize that many of our experiences, whether happy or sad, are worth their weight in gold and deserve a place in our hearts. It's the author's wish that his stories will help readers rekindle their own precious memories. This book follows his first two, It's All Good: Times and Events I'd Never Want To Change (2017) and Knowing He's There: True Stories of God's Subtle Yet Unmistakable Touch (2019). Both of these works have achieved an average rating of five stars on Amazon and the maximum four-star rating from official reviews on OnlineBookClub.org, which boasts over one million members.