"My Author Representative's professionalism, knowledge,and dedication guided me during my first publishing experience. I appreciate her patience!"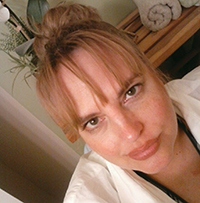 Rebecca Mountain-Pazell, a graduate of the University of Kansas, works as a freelance writer. She lives with her husband John, a corporate attorney, in the suburbs of Kansas City. The couple enjoys cooking, traveling, volunteering for local charities, and spoiling their pets. Caitlin Bryce Lassen is a freelance artist with a Bachelor of Fine Arts degree from the University of Saint Mary. Her specialties include animal illustrations, portraits, and fantasy comics. The Kansas-born Lassen lives in her home state with husband Andrew and their mischievous Pomeranian.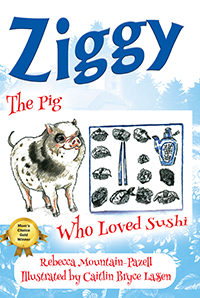 Click for details or to purchase
Book description…
ZIGGY, The Pig Who Loved Sushi A Celebration of Food and Friendship. Ziggy is a small pig enjoying a simple life on a quiet Kansas farm. But her calm world is turned upside when she eats sushi for the first time. Now, her quest for this tasty new food leads her and her owners on a cross-country journey. They even travel all the way to the Orient! By the end of their adventure, Ziggy and her humans learn the importance of home, family, and the value of friendship.