"Everything was excellent. Thank you so much for a job well done and for all your patience. I look forward to doing the next two books with you."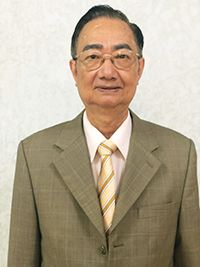 Rev. Khoat Van Tran, Ph.D. is a Vietnamese American man by the name of Khoat ("Peter") Van Tran, who is both a doctor of Oriental Medicine and a Catholic priest. Rev. Tran holds three Ph.D. degrees, one in Theology, one in Philosophy, and one in Oriental Medicine. Rev. Tran always remains a priest, while also championing the economic and trade endeavors that he foresees can bring America, Vietnam, and Switzerland together for the financial betterment of the poor everywhere. Earlier in his life, Rev. Tran had also worked successfully with leaders in the governments of Vietnam and the United States to open up relations between these two nations after the Vietnam War ended. Rev. Tran continues this project of bringing our two nations together through promoting faith and trade that can benefit both nations. The spiritual food and the physical food focused on by Our Lord Jesus Christ in His "Our Father" prayer are so important to Rev. Tran. As a matter of fact, the ideas expressed in Rev. Tran's Catholic Manifesto have been germinating in his own mind, heart, and soul for a number of decades. Finally, nearing the age of 80 years, Rev. Khoat Van Tran has put to pen these precious gems from The Holy Spirit, calling it the Catholic Manifesto. The next book of Rev. Khoat Van Tran for God Our Heavenly Father's "True New Time" on Earth is called Catholic Revolution. Look for it soon in your nearest bookstore!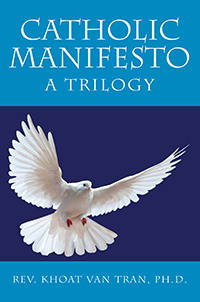 Click for details or to purchase
Book description…
A unique book that prepares us for the "true new time" on Earth… How many times do we pray quickly the Lord's Prayer, commonly known as the "Our Father", without thinking of the significance and consequence of its words? Rev. Khoat Van Tran takes us line by line through this prayer taught by Jesus to all God's children, and he draws upon Scripture to reveal the great impact of each line in this prayer for the "True New Time" of God's Kingdom on Earth. We learn that this is more than God's requested prayer for everyone, because it is also a statement. It is our Catholic Manifesto. As Rev. Tran concludes, "The Our Father is mostly a prayer for every person, but as the Catholic Manifesto as well, it is also a declaration from our standpoint and engagement in the world in order to become perfect on Earth as in Heaven." Indeed, without this prayer we cannot begin to build the Kingdom of Heaven on Earth.