"I'm glad that I chose Outskirts Press publishing, which has turned out to be an education for me. Now I'm looking forward to publishing my next book."
Al Monroe, a retired chief electrician and veteran of five wars, is not an accomplished or career author. He seeks to capture people and places in his life, and how they have changed since the 1920s to the present day, but he can't do that without writing about himself in this series of endearing autobiographies.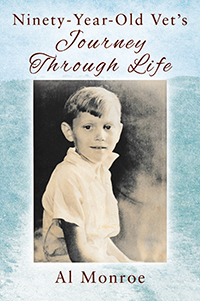 Click for details or to purchase
Book description…
For many years now, I have wanted to write about my life, and especially about some of the people in my life. I'm sorry to say that due to my lack of faith in my writing skills, I gave up many times. In those days, I thought I wouldn't live past sixty years old, but here I am — ninety years old, and still going strong. Well, not so strong, but people are surprised when I tell them how old I am! And would you believe it — due to the encouragement of a few of my family, friends, VA doctors, nurses, and counselors, I have completed this book about the first seventeen-and-a-half years of my life, and I have almost completed a book that ends on the year of my twenty-first birthday. And if the readers of this book will do the math, they will realize that I have a lot more writing to do!