"I have just written my fourth book entitled Sailing Around the World in 300 Days: The Last World Cruise of the Yankee Trader. This was my first experience writing a book electronically since I had no cell phone or computer knowledge. So I bought a cell phone and with the patient help of my Author Rep and some hard working and patient local librarians in Sacramento, we were finally able to complete the book in late August. My book is an attempt to recapture some of the places and names from bygone days. It will be an enjoyable read for everyone who likes ships, oceans and travel."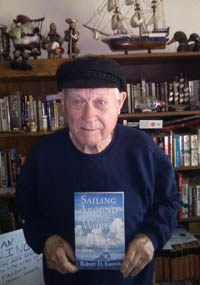 Robert D. Easton is a native of the state of Washington. He earned two liberal arts degrees from Central Washington State College at Ellensburg, Washington and has done postgraduate work at colleges in California. Even though classified as a veteran of the Korean War, he served only in Europe and in Stateside army posts as a teletype operator and message center clerk for the U.S. Army Signal Corps during 1953 and 1954. At various periods in his life, he has worked as a custodian, section hand, truck driver, newspaper reporter, schoolteacher, technical writer, landscape technician, parks maintenance worker, nurseryman, salesman, public school classified employee, warehouseman, and computer assembler. His latest employment is serving as foster grandparent in an elementary school in Sacramento California. His article, about Jack London, placed 22nd (out of 100) in the 1974 Writer's Digest Article Contest. He has written nonfiction articles for Air California, National Humane Review, Horse and Rider, Sacramento Magazine, and Good Old Days magazines. The Hibiscus Press (In A Nutshell) of Sacramento, California, has published four of his short stories. In May, 1978, he published a book of nostalgia entitled Tales from the Palouse Country and in 2004, a memoir entitled Beyond the Palouse. In 2009, he wrote a paperback entitled, Cobwebs, Echoes, and Footprints. He lives in Sacramento and has four grown children and six grandchildren.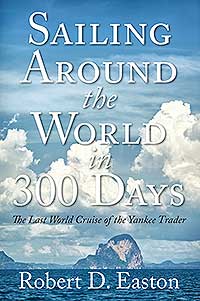 Click for details or to purchase
Book description…
This book is a narration, written by the author, about a 31,000 nautical mile circumnavigation of the globe by the ship, Yankee Trader. In the early days of February 1979, Easton embarked on this voyage joined by approximately 75 other passengers, plus about 20 crew members. During this 300-day adventure, the Trader visited 61 ports and sailed the Atlantic, Pacific, and Indian oceans as well as the Caribbean sea. Yankee Trader, on this, its last trip, also crossed the Equator four times, the International dateline, and the Greenwich meridian once each. This was largely an island hopping voyage, enjoyed by many in the group who were engaged in the exploration, fishing, scuba and skin diving, meeting Islanders, savoring other cultures, and sailing into many beautiful sunsets.
"Avast, me hearties, let us splice the mainbrace, raise our glasses high and shout hurrah for the everlasting majesty and glory of the tall ships." – Robert D. Easton, author