"My experience with Jamie has been great. I'm very happy with your personal work interactions and the final product"
Jim LaRue grew up in NW Montana. He attended Oregon State University on a Navy ROTC scholarship and graduated in 1968 with a degree in Mechanical Engineering. Upon graduation and commissioning, he served five years in the Navy as an aviator. His professional career consisted of several independent business ventures with the last twenty years spent in the financial services industry with a major national firm. He retired in 2006 and resides with his wife Margie on the shores of Lake Keowee in NW South Carolina.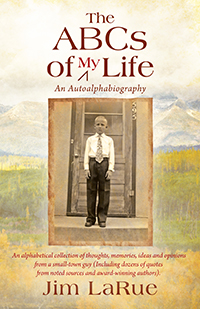 Click for details or to purchase
Book description…
A rambling collection of thoughts, opinions, observations and memories from an average small-town guy who survived the cold war, the polio epidemic, chicken pox, measles, mumps, broken bones, drinking water from a garden hose, nuclear war drills, an older sister, playing in the street, speeding, underage drinking, riding a bike without a helmet, dog bites, cat scratches, skiing in the fog, driving on icy roads in winter blizzards, corporal punishment, harsh winters in Montana, living for two months under water in a submarine, flying jets off the deck of an aircraft carrier, raising two sons and forty-nine years (at the time of this typing) of marriage.