"Keep up the good work. I have at least 3 more novels to come."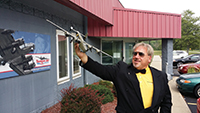 In the third installment of the Son of a Son of the Thin Man series, author P. A. Gawel began his research at the Yankee Air Museum in Belleville, MI, the future home of the Rosie the Riveter museum. Writing about how Detroit has historically affected life in the USA and blending it with a murder mystery that affects not one but the many, continues with The Vile Seed Murders. Son of a bus driver and Rosie the Riveter, our author is one of eight children born and raised in Detroit. Seen here taking a B-24 Liberator for a test flight at the Yankee Air Museum, he started with an idea of incorporating stories from the dwindling tour de force known as Rosie the Riveters and turned it into a circa current day Detroit thriller.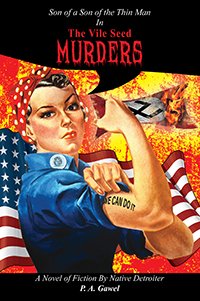 Click for details or to purchase
Book description…
Armafreakingeddon on the Great Lakes! The Vile Seed is ready to strike. Remembering those electrifying days following Pearl Harbor to living in current day Detroit, murder and espionage permeate the air generating a possible death blow to over 26 million people in the Great Lakes Region. Way back when, a vile seed was planted and over 70 years after the fact has blossomed into a coldhearted killing machine. Who can rid the world of this pond scum? My money is on a gal named Rosie.