"As always, the cover designer was amazing. Thank you Colleen for matching him to my book."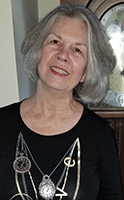 Georgann Prochaska grew up in the Chicago suburbs, taught school, and kept journals. After her mother passed away, Georgann wrote On Little Cat Feet, a memoir of being a caregiver for a parent with Alzheimer's. Writing mysteries followed. The Case of the Girl Who Didn't Smile, the first in the Snoopypuss series, was named one of ten finalists of the 2015 Lascaux Prize. The second mystery involves slobber with Audrey the bloodhound: The Case of the Hound Who Didn't Stay, and The Case of the Ex Who Plotted Revenge is the third novel, a second-place winner of the Royal Dragonfly Book Award for mystery.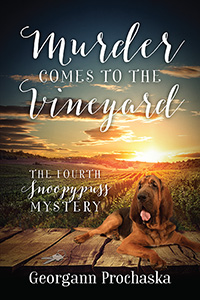 Click for details or to purchase
Book description…
How did a request for a simple bloodhound search leapfrog into a murder investigation? Alice Tricklebank and her bloodhound Audrey are on their own in California when they awaken to gunshots-only to find the body of Guthrie Huff in the main house and another body among the tendrilled grapevines. Like it or not, Alice is once again entangled in a stiff-necked investigation, with suspects holding secrets and scars close to their chests. But this time her dear friends Lena and Julian are not immediately available to help cobble a story together. And Audrey's being difficult, miffed that her favorite toy was left behind in Limekiln… Alice will have to hustle to snoop and solve the mystery if she plans to attend her grandson's graduation. She's promised to have her keister planted on the bleachers for the ceremony in one week, but can she keep her promise? Tick-Tock. Better hurry, Alice!