"I have nothing but praise for the Outskirts Press team. They are simply the best in the business. Everything is up front. There are no hidden surprises. They are superb professionals who deliver exactly what they promise."

Jago Muir is a graduate of the University of North Texas, where he took a B.A. in English in the 1960s. He later did Master's work at Lamar University in Beaumont, Texas. His study of linguistics and the English language earned him a place as a scholarly writer, publishing his work in the Lamar Journal of the Humanities.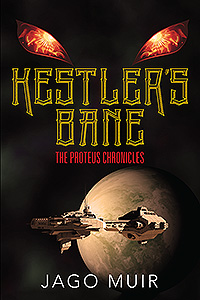 Click for details or to purchase
Book description…
Can Six Unlikely Heroes Defeat the Forces of Evil? The year is 5465 C.E. A routine mission goes horribly wrong when Captain Truman Hale's space cruiser is destroyed in a freak storm. He lands in an unfamiliar world, where five strange allies join him. Together they must battle The Molester, the leader of horrifying creatures who live in an underground maze, torturing and devouring their victims…especially the peaceful and gentle Boat People. The war turns personal when Truman discovers that the Boat People are his own kind: humans descended from survivors of the Proteus, a space ark launched from Earth in the 22nd century. In the ultimate test of bravery and loyalty, the six warriors must unite against the forces of darkness, while unraveling the hidden secrets sheltered in this unique world. This gripping saga will linger in your imagination long after you have turned the final page.