"Publishing my book with Outskirts Press has been an amazing journey. A dream come true which would not have happened without the support of their outstanding staff. After doing extensive research for the best publisher for my book, Embrace the Light, I was sold completely when I found Outskirts Press. My Author Representative went the extra mile for me. She took me through the publishing process step by step with patience and humor, which always made me feel optimistic. When she asked me to choose a poem for my website, I read it to her, and tears came to my eyes. It was a poem I dedicated to my students. She was extremely compassionate. Since my book has been published, I have the supportive Marketing COACH to help me promote my book. My students inspired me to write my book, and to see the pride and happiness on their faces when they first saw my book, left me speechless. Everyone is so proud of me, and I can hardly wait to publish my second book of poetry with Outskirts Press in the near future. Thank you, Outskirts Press, for all of your help!"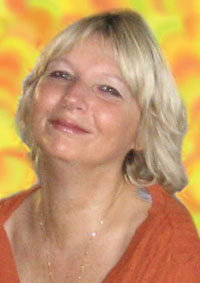 Donna M. Solitario earned a BS, a certificate in Special Education, and a Certificate in Substance Abuse. Donna Solitario has won several Editor's Choice awards, and has been published in six Anthology books. Her second published book is: "Coming Home To My Heart" for inner peace. Donna's third published book is: "A Poets Heart" The author writes articles for the community on issues such as: Bullying, Substance Abuse, Domestic Violence, Child Abuse, Parenting, The Heroin Epidemic, Elder Abuse, etc. Donna taught Special Education for over ten years. She enjoys inspiring others through her poetry. Other projects she is involved with include: Poetry Ambassador, Mentor, and tutor.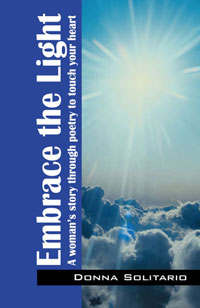 Click for details or to purchase
Book description…
Poems To Touch Your Heart. "Embrace the Light" is a poetry book in verse and prose to inspire the heart, and warm the soul. It includes a myriad of poems such as: Family and relationships, adversities, spirituality, love poems, and inspirations.