"Thank you Outskirts! Pacific Book Awards 2017 named the cover of The Case of the EX Who Plotted Revenge as a finalist in their Best Book Cover Design Fiction. Please thank the artist who worked on this cover. I may have made suggestions, but it was the artist's vision and creativity that put it all together. Thank you for listening and tapping into the spirit of the mystery."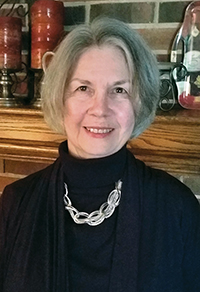 After retiring from teaching, Georgann Prochaska became a caregiver for her mother, an experience she wrote about in a memoir, On Little Cat Feet. Revisiting memories of family led to writing mysteries. The Case of the Girl Who Didn't Smile, the first in the Snoopypuss series, was named one of ten finalists of the 2015 Lascaux Prize. The second mystery involves slobber with Audrey the bloodhound: The Case of the Hound Who Didn't Stay.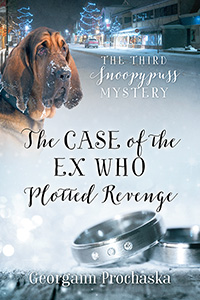 Click for details or to purchase
Book description…
He's Coming Back Dangerous. Angry with the people who didn't lie to keep him out of jail, Phil Greer is back in Limekiln, ready to cause prolonged pain for his enemies. At the top of his list are his old partner, his ex-wife, and the woman who never kept her snoopy nose out of his business. His brother warns him the town will gladly send him back to jail, but Phil laughs. Postings on Internet give him all the ammunition he needs to twist arms, strike fear, and destroy happiness. But the residents of Limekiln are working on a White Christmas wedding. Alice and Lena have no time for a murder. There are cakes to bake and elderly guests to house. Audrey, the bloodhound, eagerly throws herself into searches for those missing but protests dancing Santa decorations. All the while, fear grows in Limekiln: how will Phil shatter lives?