"Writing a book is hard work but is only the first stage in the publishing process. Many more steps are required to produce a manuscript with fabulous illustrations, minimal mistakes and a beautiful eye catching cover. The One-Click Children's book package facilitated the metamorphosis of my countless hours of typing into the final product I envisioned and am extremely proud of."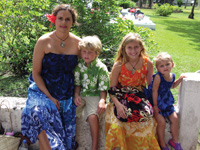 Dr. Selena Nicholas-Bublick is a neurologist originally from the Cook Islands who wrote this book in order to help her daughter Tiare with her 4th grade vocabulary words. Not wanting to be left out, her two other children, Mana and Leilani-Rose, encouraged her to include them in the adventure. Tiare and the Circle of Worlds is Dr. Nicholas-Bublick's first children's book.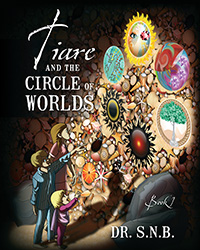 Click for details or to purchase
Book description…
The tri-prophetsí power has been awakened . . . After an attack at school with a shard of the lost blade of Makea, Tiare and her siblings find their lives drastically altered. Tiare discovers that she now has the power of an awesome warrior, with the ability to use any weapon in battle. Her brother Mana is able to run with amazing speed and has the ability to deconstruct and understand how any object functions, and baby sister Leilani-Rose becomes the rare glow child. Together, the children are the tri-prophets of power-descended from the marriage of a Polynesian princess from the island of Rarotonga and the most powerful immortal to have ever lived. Tiare and her brother and sister are whisked off on the tail of a giant goldfish through a portal to another solar system made up of six worlds: the Circle of Worlds. An ancient evil wishes to claim their powers in order to rule both the Circle of Worlds and Earth. With Rangatira, a warrior stag from the animal world of Vaevaeā, as their guide, the children set out to discover how to defeat the ancient evil. But they quickly become lost on the tree world of Maunga, where they encounter killer butterflies, flying treehorses, pegacorns, giant walking insects, and a magical dragon. Will they be able to defeat the evil Kekete and witches of the dark world of Maki? Will they find the king of the sun world of Rā to help them carry out their quest? Join the fun as the children travel through space in this exciting new series that explores Polynesian legend and introduces the fantastic Circle of Worlds.