"I have recommended Outskirts Press to numerous people already. Mainly due to all the help I received having my book published."
Carlos A. Garcia was raised in Brooklyn's East New York area where growing up was hard and dangerous. He came from a beautiful family of nine and became a cop in 1990 where he was assigned to the 90th Precinct in Williamsburg, and dedicated his life to helping others.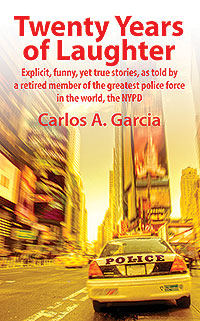 Click for details or to purchase
Book description…
As an N.Y.C. Police Officer the things you see will either break you down or kill you. But believe me, in this great city you can find humor in just about any situation. Or die laughing…..