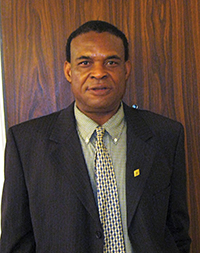 Dr. Kingsley J. Osagie is a Bini man (Ovbiẹdo Kpataki). Before traveling abroad in search of the golden fleece, he served in the NPF after graduating from police College Lagos, where he was the best all round student of his squad. He is the author of the Fate of a Nation, an enthralling account of the root of bribery in Nigeria and the putrescent and authoritarian personality of the Nigerian policeman; and the author of a View From the valley. He is a graduate member of the Institute of Transport. Admin. In Southampton; holds a BA(hons) degree in English and Social linguistics; possesses doctoral degrees in Criminal Justice and Justice Admin. from Walden and Bay view universities. He currently resides in Israel with his family.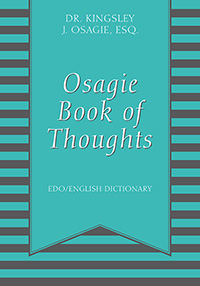 Click for details or to purchase
Book description…
Words of wisdom; The deeper meaning of life; Gordianism and the cosmic energy that helps beat your enemy to submission are abound in this book. This book is more than just a bilingual dictionary because of its encyclopedic nature and the copious tales and allegories it contains. It provides the reader with a grand tour of Edo Cultural terrain in Occultism, Spiritualism, Superstitious Beliefs, Idiomatic Expressions; Social Linguistics and Esoteric Philosophy. It makes you feel the pulse of a bygone era when valiant men stood up to fight for what they believed was true and just. For the Edo reader, this book, through its semantic concept, reveals to you, who you really are among the nations of the world; it will relish and salvage your soul; it will resuscitate and revitalize your ebbing grip on your mother tongue; therefore, it is a desideratum for you and for every student (research) of ethnology and cultural anthropology. Holding a copy of this book in your right hand will give you a sense of pride as you look in the mirror, breathe a sigh of relief and smile to yourself, after all, you never thought a day like this would come, the day this book was born, the day you take complete control of your destiny. Dr. Kingsley J. Osagie, Esq.