"I appreciate all that Outskirts Press has done for me and my book."

Janice N. Chapman was born and raised in northwest Oklahoma. Her love for horses began as a child, and today she owns a small horse ranch in the Pratt, Kansas, area. She also owns Prairie Angel Thrift Shop/Prairie Angel Gift & Novelties shop in Harper, Kansas. Chapman is the author of several collections of poetry and short prose: If I Could Be a Poet; Priceless Pages from Amazing People; Writin' the Range; Poems with No Place to Go; and Legacy of Short Stories and Essays. Destiny's Call is her debut novel.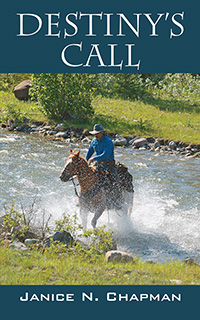 Click for details or to purchase
Book description…
Brad Anderson doesn't know he is an outlaw's son, but he does know that he has to escape the misery of his father's ranch. He's learned how to train horses from an old Indian; and how to work cattle from the cowboys who worked on the ranch, and from them he learned their values, to be trustworthy and honest. These values will have to carry him forward when Brad finally leaves home as a young man, fleeing his father's constant, cruel wrath. With no idea what destiny has in store for him, Brad hires on with Crosby Leonard, a respected rancher in the community and an ally. Brad proves to be a hard worker and a trusted ranch hand, but the truth about his father soon comes out…and Brad's own reputation will have to overshadow the fact that he is the son of a notorious outlaw.