"I highly recommend Outskirts Publishing Company. I was extremely pleased with the service the author representatives provided during the process of publishing my book. They fulfilled their responsibilities with utmost professionalism and provided positive feedback throughout the entire process. The representatives definitely have the knowledge and expertise to deliver top quality books."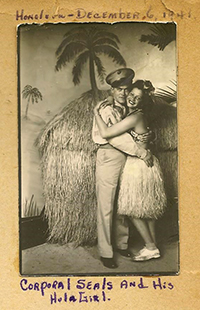 About Colonel Seals:  I was born in a log cabin on 5 April 1916 in the Bellview Community, Bledsoe County, Pikeville, TN. I served on numerous bases throughout the world during my military career. I was awarded many decorations and awards during this time.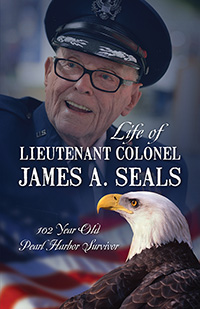 Click for details or to purchase
Book description…
I am 100 years old World War II veteran and a Pearl Harbor Survivor. My name is Lt. Col. James A. Seals. I am 100 years old, World War II Veteran, and Pearl Harbor Survivor. This back cover photo was taken 6 December 1941 the night before the Japanese attacked Hawaii. A friend and I were supposed to go to the USS Pennsylvania that evening, however, we decided to go to Honolulu for dinner, drinks, and watch the hula girls dance. It was very late on 6 December so we decided not to go to the USS Pennsylvania until the next morning. On the beautiful calm, sunny morning of 7 December we were enjoying a walk to the USS Pennsylvania. We were about 200 feet away from the ship- another couple of minutes we would have been on board. The Japanese warplanes swooped down dropping bombs and firing machine guns. Chaos erupted.