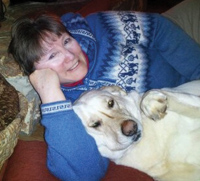 "Publishing a story was a totally new experience and adventure for me. Everyone I encountered was polite, patient and and knowledgeable. What I found most helpful was my production team. I cannot praise them highly enough. In this high tech world, it is amazing how important it is to establish personal relationships. I know, without this talented team and the individual assistance I received, this fabulous and professionally finished book would have been impossible. I was excited to see my book on the Amazon and Barnes and Noble websites. My overall experience with Outskirts Press has been wonderful and I enthusiastically recommend them."
F. C. Wolf was born and raised in Brooklyn, New York. She graduated from York College CUNY and currently lives just outside of Richmond, Virginia. Ms. Wolf has been teaching for more than thirty-five years and is still a special education teacher with Hanover County Public Schools. She enjoys teaching, reading and traveling. For the past five years she and her dog Sam, have been associated with Intermountain Therapy Dogs Inc., and Sprite's Hero. Through these programs, they became a certified pet therapy team and also participants with "Paws to R.E.A.D" – Reading Education Assistance Dogs. The R.E.A.D. program works with people of all ages, but especially with children to encourage and develop reading skills. Ms. Wolf and Sam also trained with a canine search and rescue unit for more than a year in rural Virginia. "Sam, Search and Rescue" is a direct result of Ms. Wolf's passion for teaching, working with children, love of animals, reading and the great outdoors.
Product description…
When ten-year-old, Petey, disappears on Halloween Eve, Sam and his handler get the call. Sam leads the way to an isolated and hidden cave. Once inside, all communications are cut off. They are all alone in the cave, or are they? Sam senses the danger first and without a moment's hesitation, springs into action and not a second too soon. Sam is the story of a retired, ten-year-old Search and Rescue dog. As a young pup, Sam was wild and undisciplined. He would escape from his kennel and tear up the neighborhood. He was a free-spirited, country dog, stubborn and with a mind of his own. Sam's journey from outcast rebel to trusting acceptance and heroism will keep young readers wanting to know what happens next.